White Paper - Raising the Bar for Technology Implementation: Onboarding at NarrativeDx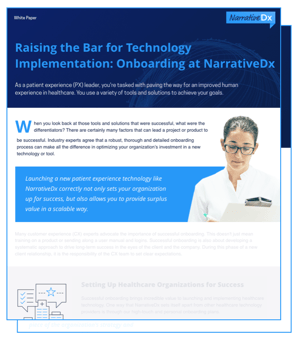 As a patient experience (PX) leader, you're tasked with paving the way for an improved human experience in healthcare. You use a variety of tools and solutions to achieve your goals.
When you look back at those tools and solutions that were successful, what were the differentiators? There are certainly many factors that can lead a project or product to be successful. Industry experts agree that a robust, thorough and detailed onboarding process can make all the difference in optimizing your organization's investment in a new technology or tool.
Read more about how successful onboarding brings incredible value to launching and implementing healthcare technology. One way that NarrativeDx sets itself apart from other healthcare technology providers is through our high-touch and personal onboarding plans. We have heard again and again that our clients get tremendous value out of this experience.