White Paper: How to Identify Workforce Development Opportunities from Patient Feedback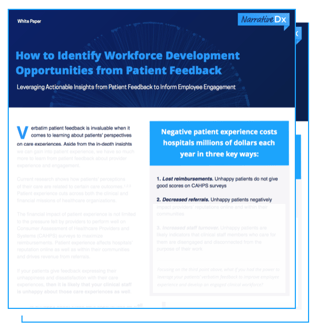 Workforce development is a serious commitment for a healthcare organization. Analyzing patient feedback is useful for identifying perceived skills gaps in the healthcare workforce because these new insights shed light into the needs and development opportunities for your staff.
Read more about how patient feedback intelligence powered by AI helps organizations make strategic investments in workforce development and employee engagement. In this white paper, you will discover the risks of employees becoming disengaged as well as best practices (and case studies) to proactively detect and tackle these issues.